Background
Each year Australian households and business continue to consume more data and require higher bandwidth from their Internet Service Provider (ISP). The insatiable demand for data and bandwidth has been compounded during the pandemic with a greater uptake in hybrid work / education models and more and more HD streaming and online gaming services available. It is now common place to have several simultaneous connections to one or more of these services within a household or business.
For many years, Australians have had little choice in which ISP provider they use. The market has been traditionally dominated by the "Big Telcos" offering NBN and limited fixed cable connections.


The challenge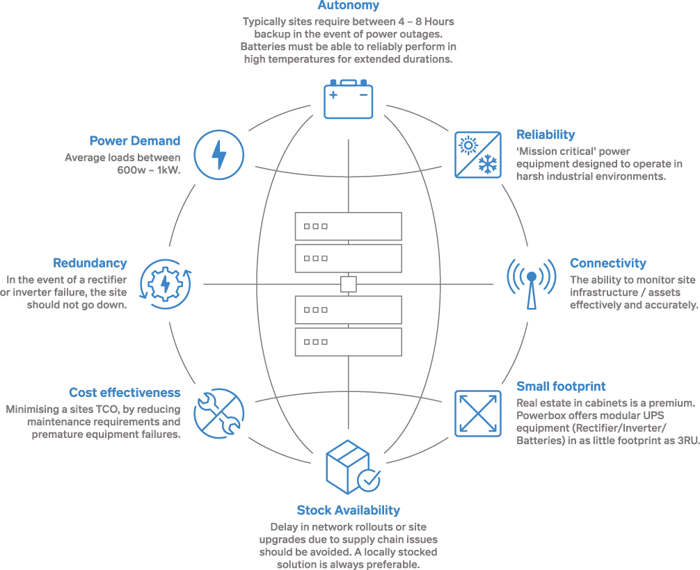 The solution
When advising customers on the best solution for their network infrastructure requirements the first question that is asked is:
"What voltage is the primary load?"
Based on the answer given we choose the most efficient architecture to meet our customer's needs.
Primary load Voltage
48Vdc
230Vac
48Vdc + 230Vac
Recommended Solution
Enatel MicroCompact Series (PSX12/PSX13)
CE+T Sierra10
CE+T Sierra10
Type
DC Power System (Rectifier)
Multi-Directional Converter (Tri-Port Design) simultaneously providing both 48Vdc and 230Vac
Multi-Directional Converter (Tri-Port Design) simultaneously providing both 48Vdc and 230Vac
Smart Monitoring
Yes – via Enatel EM4X monitor
Yes – via CET Inview monitor
Yes – via CET Inview monitor
Smart Lithium Battery Supported
Yes – via Modbus
Yes – via Modbus
Yes – via Modbus
Hot Swappable
Yes
Yes
Yes
Form Factor
19" Mountable
19" Mountable
19" Mountable
Size (RU)
1 RU
1 RU
1 RU
Power (kWs)
0.94 – 2.58 kW
1.2 – 4.8 kW
1.2 – 4.8 kW
Load Distribution
6 x Load Breakers (6-30A) + 2 x Battery MCBs (30A)
AC Port – Bulk output or via IEC socket
DC Port (Battery) – Bulk
AC Port – Bulk output or via IEC socket
DC Port (Battery + Load) – Bulk
Recommended Battery Options

Critical to any UPS providing either DC or AC backup is the battery. A system is only as reliable as the weakest link, which has traditionally been a site's lead acid batteries.
At Powerbox, we are pleased to be able to offer our customers direct access to Polarium's best in class Smart Lithium Batteries.
Polarium, is a Swedish company dedicated to providing the best performing, safe and sustainable energy storage solutions built on the latest lithium-ion technology.
All Polarium products offer:
High Energy Density – multiple sizes and capacities available for wide site coverage


High reliability - longer service life, in harsh environments


Excellent Safety features including:
– Real Time Monitoring and Control by onboard Battery Management System (BMS)
– Real Time Adjustment of the State of Charging and Discharging automatically


Smart – ability to easily monitor critical battery data including:
– SOC
– Capacity
– Battery Voltage
– Current
– Minimum Cell Voltage
– Maximum Cell Voltage
– Maximum Cell Temperature

Programmable Alarming (via RMS controller)
– Under Voltage
– Over Temperature
– Under Temperature
– Short Circuit
– Circuit Breaker State

Ease of Installation and Operation

Polarium Smart Lithium Battery Options
| | | | | |
| --- | --- | --- | --- | --- |
| Model | SLB48-050-124-2 | SLB48-100-145-5 | SLB48-150-146-5 | SLB48-250-146-2 |
| | | | | |
| Capacity | 50Ah / 2400Wh | 100Ah / 4800Wh | 150Ah / 7200Wh | 250Ah / 12959Wh |
| Max Charge Voltage | 58.8Vdc | 54.7Vdc | 54.7Vdc | 58.8Vdc |
| Cell Type | NMC | LFP | LFP | NMC |
| Height (RU) | 2RU | 4RU | 4RU | 4RU |
| Depth (mm) | 382mm | 420mm | 577mm | 557mm |
Interested in learning more about Lithium-Ion Battery Technology – Chemistries, Comparisons and Future Outlook? Find out more here
What equipment and services can powerbox provide?
Consultation & advice on the best power architecture for your application and network requirements.


Design and Supply of modular Critical Power equipment to support both AC and DC loads.


Supply of Industry leading lithium-ion battery technology, purposely built for the global telecommunications market.


Monitoring solutions to ensure your critical network equipment is always operational.


IP cabinets to house power / network equipment.


"Power as a service" – a managed service providing critical power for your network upgrades / expansion.